Frontpage
Organic Ceremonial Grade Matcha Green Tea Powder - Vanilla Blend - 100g
Matcha Ireland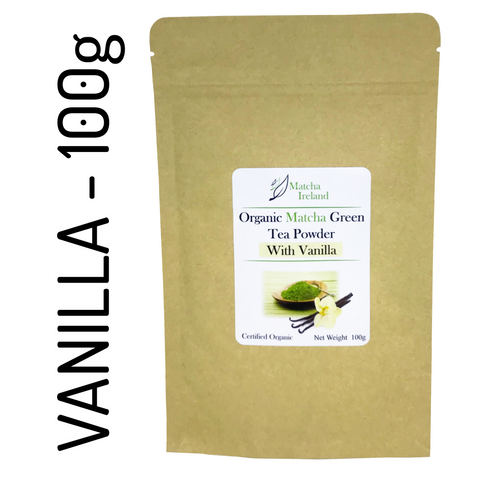 Indulge in the velvety smooth blend of natural vanilla and Certified 100% Organic Ceremonial Grade Matcha Green Tea Powder. Our custom blend of vanilla provides an invigorating sense of flavor while giving you all the amazing benefits of organic matcha green tea.
Our commitment to quality extends beyond the taste and benefits of our product. That's why we always package our Vanilla Matcha Powder in a resealable, recyclable foil-lined pouch. This not only enhances the life of the powder but also gives you the same freshly opened sensation with every use.
Our Vanilla Matcha Powder has a shelf life of up to two years, and once opened, it's best to use it within three months. For optimal freshness, store it in a cool, dry place, away from direct sunlight, and be sure to reseal the pouch after each use.
Indulging in your daily matcha fix has never been more delicious. Simply add 1/2 teaspoon of Vanilla Matcha Powder to a cup of warm milk or water, and enjoy the smooth, rich taste that comes with every sip.
With a caffeine content of approximately 0.81%, our Vanilla Matcha Powder is the perfect way to add a touch of flavour and a boost of energy to your day, naturally. (8.1mg per cup of matcha)
---
More from this collection